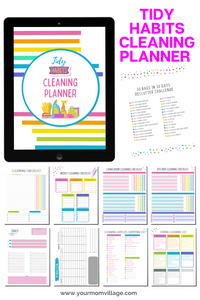 Never again will you feel overwhelmed with your cleaning to-do list.  Easy to use printable cleaning planner to help you make a plan you can stick you.  
21 pages 
Checklist for every room in the house
Seasonal Cleaning Checklist 
30 Day decluttering challenge 
Instant download!  
 Stay focused by listing all your cleaning task and checking the box when done.  Inspire your family to help out by giving them easy to follow list.  No more yelling "CLEAN UP!" 
Stop your clutter from owning you
SAVE TIME AND ENJOY LESS STRESS